Millions of people throughout the world use PayPal as a quick and easy way to pay for things online. However, no online service is perfect, and you should know the dangers to watch out for and how to keep your information safe.
CLICK TO GET KURT'S FREE CYBERGUY NEWSLETTER WITH SECURITY ALERTS, QUICK TIPS, TECH REVIEWS, AND EASY HOW-TO'S TO MAKE YOU SMARTER
What is PayPal?
PayPal is a digital payment platform that allows individuals and businesses to send and receive payments electronically. It is an online payment system that provides a secure and convenient way to transfer funds between parties without the need for cash or checks. PayPal can be used for a variety of transactions, including online shopping, peer-to-peer payments, and money transfers between individuals or businesses. It is available as both a website and a mobile app for iPhone and Android, making it easy to use virtually anywhere with an internet connection.
iPhone: 4.7 stars (at time of publishing)
Android: 4.2 stars (at time of publishing)
WHY GEN ZERS ARE GOBBLING UP FLIP PHONES AND REJECTING SMARTPHONES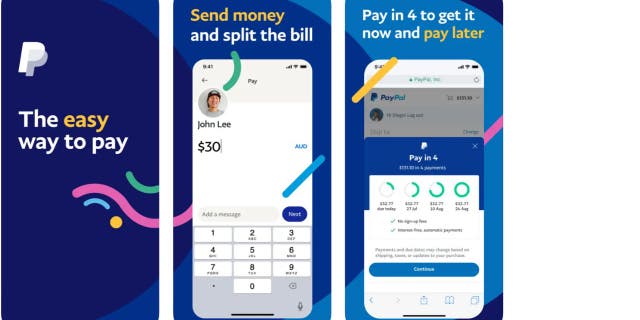 What are some dangers of PayPal?
PayPal is considered to be one of the safest ways to pay online, as all transactions are protected with advanced data encryption. However, being that it is such a large and successful company, it is a huge target for hackers to try to steal people's money or personal information. The most common security threats that PayPal experiences come from phishing and identity fraud.
Phishing is where hackers impersonate legitimate organizations, such as PayPal, in an attempt to deceive you into providing sensitive information, such as login credentials or financial details. The scammers send phishing emails that appear to be from PayPal and contain links to malicious websites or attachments that may contain malware.
Identity fraud is another security threat that you may encounter if you use PayPal. Hackers may attempt to steal your personal information, such as your Social Security number or credit card details, to engage in fraudulent activities or make unauthorized transactions.
MORE: PAYPAL HACKER ATTACK EXPOSES CUSTOMER NAMES AND SOCIAL SECURITY NUMBERS 
Common PayPal scams to look out for
Phishing email or message scam
You receive a suspicious email or message that looks like it is from PayPal, or you are directed to a fake website that looks like the legitimate PayPal website.
Package rerouting scam
A buyer places an order and provides an incorrect or fake shipping address. The shipping company then tries to deliver the package yet isn't able to deliver it. The buyer monitors the online tracking information and notices that the shipper couldn't deliver the package. The buyer contacts your shipping company and asks them to send the package to their correct address. The shipping company delivers the package to the new location. The buyer then files a complaint about not receiving the item. Because the shipment was rerouted, you can't prove the item was delivered to the address on the Transaction Details page. The buyer gets to keep the item and money. Because the package wasn't delivered to the address on the Transaction Details page, you aren't covered by Seller Protection. Unfortunately, you lost the product, shipping fees, and money. To add insult to injury, you might also have to pay your shipper an additional rerouting fee.
Invoice and money request scams
You receive an invoice or money request through PayPal for a product or service you never ordered. Or you receive a fake invoice or money request by email designed to look like a real PayPal email. Another scam is you receive an invoice or money request through PayPal, and the scammer has included an alarmist note. The note asks you to call their fake customer service number.
Overpayment scam
A customer sends a PayPal payment that is more than the purchase price of the order and then asks you to wire them the difference. They may tell you that they accidentally overpaid you, the extra money is for the shipping costs, they're giving you a bonus for your great service, or the money is for the stress they've caused you. They may even ask you to wire the shipping fees to their shipper. This scammer may have paid with a stolen credit card, bank account number, or checking account. Just because a payment has been deposited into your account doesn't mean the money is yours to keep. If the legitimate account holder reports unauthorized activity, the money can be withdrawn from your account. If that happens, you'll lose the money you wired to the fraudster, the product you shipped, shipping costs, and your payment.
Shipping service scam
The buyer asks you to use their shipping account because they can get a discount, they have a preferred vendor they've worked with for years, or their shipping service is cheaper or more reliable. In another variation of the scam, the buyer may also ask you to wire the shipping fees to their preferred shipper. If you use the buyer's shipping account, they can easily contact the shipping company and reroute the order to another address. The buyer can then open up a complaint asking for a refund because they didn't receive their order. You aren't able to prove that the buyer received their order, and you are out your product, the shipping costs, and your money. If they ask you to wire the money to a bogus shipping company, they can steal your money. After you have wired the money, you'll find out that the order was made with a stolen card or bank account. You may be held liable for returning the funds to the legitimate customer whose account was stolen.
Prepaid shipping label scam
You receive an order from a customer who asks you to use their prepaid label to cover the shipping charges. (They may tell you that they can get their labels at a discounted price.) By providing the label, the customer controls the destination of the package. They may send it to another country, a PO box, or some other untraceable location. To be covered under PayPal's Seller Protection policy, you are required to ship to the address on the Transaction Details page. The shipping label may also have been purchased with a stolen credit card.
STOP SUBSCRIPTION CREEP IN ITS TRACKS WHILE SAVING MONEY AND PROTECTING YOUR PRIVACY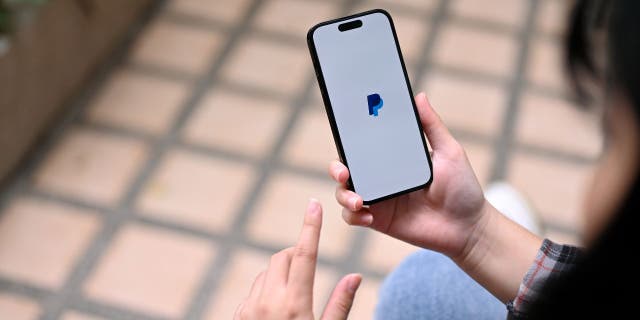 How can I stay safe from these PayPal scams?
PayPal has put out numerous warnings to their customers to prevent them from getting scammed. Here are some top red flags that you should look out for.
Beware of generic greetings: if PayPal reaches out to you via email, they will always use your name to greet you at the beginning of the message. This is because they have a record of your account and can easily find your name. A scammer, however, might use something generic like "Dear Customer" or "Hello PayPal member."
Watch out for bad grammar: many times, scammers will come from outside the country, and English is not always their first language. If you notice many grammar and spelling mistakes in a message, it is likely a scam.
Don't open attachments: a real email from PayPal will never include an attachment or any kind of software. If you see an attachment, don't open it, as it likely contains malware.
Look at the email address: look closely at the address of the sender. If you Google it and it's an official email address, then it should come up right away. If it doesn't, then it's not really PayPal.
Requests for personal information: PayPal will never ask you for personal or sensitive information via email, text message, or phone.
Receive a suspicious invoice or money request:  Don't pay it. And don't call any phone numbers stated in the invoice note or open suspicious URLs. Also, don't ever wire money to someone you don't know.
FOR MORE OF MY SECURITY ALERTS, SUBSCRIBE TO MY FREE CYBERGUY REPORT NEWSLETTER BY HEADING TO CYBERGUY.COM/NEWSLETTER
HOW TO UNCOVER YOUR HOME'S HISTORY WITH HIDDEN GOOGLE MAPS TOOL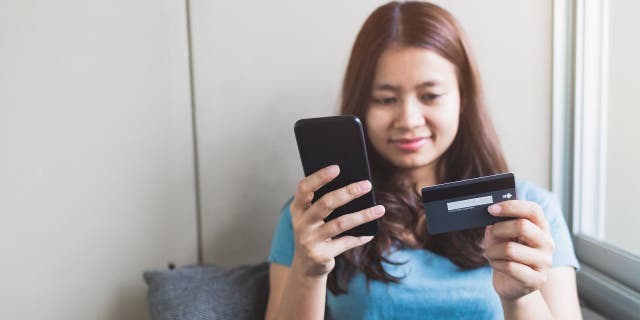 MORE: VOICE CLONING IS THE NEW WEAPON IN SCAMMERS' ARSENAL FOR FAMILY EMERGENCY SCHEMES
How to protect yourself from PayPal scams?
Choose "Goods and Services" as the payment option
If you're using PayPal to transfer money to an unfamiliar person, such as purchasing items from online marketplaces like Craigslist, Letgo, or Facebook Marketplace, make sure to choose Goods and Services as the payment option. This will ensure that the transaction is protected by PayPal's safeguard programs in case the seller turns out to be fraudulent.
Avoid using the "Friends and Family" payment option
It's recommended to avoid using the Friends and Family payment option for transactions with strangers as it's designed for transferring money between acquaintances or loved ones.
Use strong and unique passwords
Create strong passwords for your PayPal account and avoid using the same password for multiple online accounts. Consider using a password manager to securely store and generate complex passwords. It will help you to create unique and difficult-to-crack passwords that a hacker could never guess. Second, it also keeps track of all your passwords in one place and fills passwords in for you when you're logging into an account so that you never have to remember them yourself.  The fewer passwords you remember, the less likely you will be to reuse them for your accounts.
What qualities should I look for in a password manager?
When it comes to choosing the best password manager for you, here are some of my top tips.
Deploys secure
Works seamlessly across all of your devices
Creates unique complicated passwords that are different for every account
Automatically populates login and password fields for apps and sites you revisit
Has a browser extension for all browsers you use to automatically insert passwords for you
Allows a failsafe in case the primary password is ever lost or forgotten
Checks that your existing passwords remain safe and alerts you if ever compromised
Uses two-factor authentication security
Check out my best expert-reviewed password managers of 2023 by heading to CyberGuy.com/Passwordsh
DON'T FALL FOR THAT 'LOOK WHO DIED' FACEBOOK MESSAGE TRAP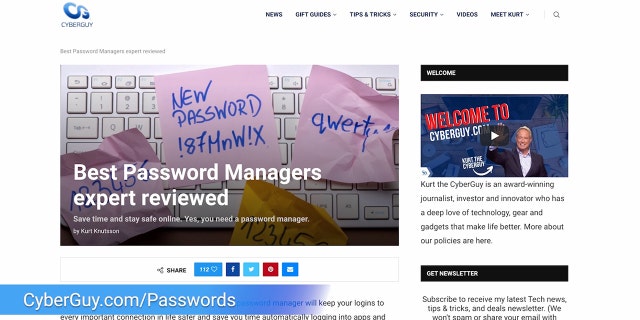 Enable two-factor authentication (2FA)
Enable 2FA on your PayPal account for an additional layer of security. This typically requires providing a verification code in addition to your password when signing in.
Regularly monitor your account
Keep an eye on your PayPal transactions and account activity. Report any unauthorized or suspicious transactions to PayPal immediately.  You can also report a suspicious email or website by forwarding it to phishing@paypal.com
Keep your devices and software up to date
Ensure that your computer, smartphone, and other devices have the latest security updates installed. Use reputable antivirus software and keep it up to date as well.
Have good antivirus software on all your devices
Installing antivirus software will protect you from accidentally clicking malicious links from these PayPal scammers that would install malware onto your devices.  The software will also remove any existing malware from your devices.
See my expert review of the best antivirus protection for your Windows, Mac, Android & iOS devices at CyberGuy.com/LockUpYourTech  
6 MUST-HAVE APPS TO AMP UP YOUR NEXT PARTY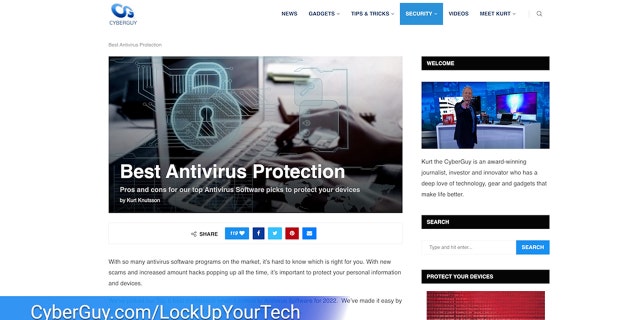 Kurt's key takeaways
PayPal is a convenient and secure way to make digital payments. However, you must be aware of potential dangers such as phishing and identity fraud. If you use the PayPal app or website, it's important to recognize the number of red flags you should look out for. I recommend you take a few easy steps to protect yourself.  Use secure passwords, enable two-factor authentication, monitor account activity, and update your devices and software to help protect against scams and maintain security. I also recommended installing good antivirus software on all your devices to prevent malware attacks.
So, stay one step ahead of these cunning cyber criminals by taking these precautions to enjoy the seamless convenience of PayPal for your online payments.
CLICK HERE TO GET THE FOX NEWS APP
Have you seen any suspicious activity claiming to be from PayPal lately? Let us know by writing us at CyberGuy.com/Contact
For more of my tips, subscribe to my free CyberGuy Report Newsletter by heading to CyberGuy.com/Newsletter
Copyright 2023 CyberGuy.com.  All rights reserved.